This DISC reporting method was created in response to high levels of demand from
recruiters, HR professionals, counsellors and coaches. They asked for a succinct report that
could be interpreted without the need for expensive training or accreditation.
At DISC Test, we ensure that the insights contained in the report:
are clear and user-friendly
related in easily understood, everyday language
expand and highlight knowledge of self and others
describe 'Primary Strengths'
explain how to improve effectiveness in specific area/s
describe how to greatly improve communication with different styles
To see more clearly how DISC Tests can help us understand personality and behaviour, psychologists have devised what are known as patterns. These patterns are based on the relationship between the scores for the four DISC areas measured … on the 'shape' of the profile.
The frequency of different patterns amongst the general population has also been taken into consideration.
DISC Test Specimen Report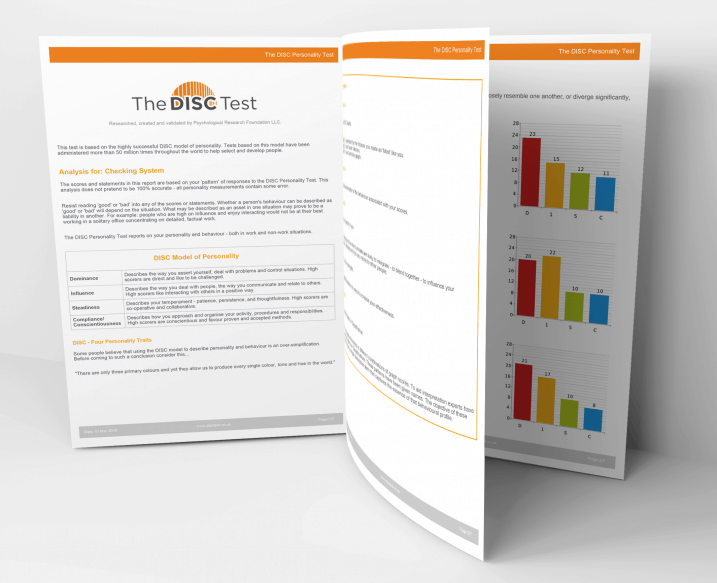 We are aware that organisations have different requirements so we offer a service whereby reports can be customised and/or co-branded.
Psychometrics evolution: how testing has won over HR
"… the value pyschometrics give seems no longer to be in any question. "Psychometrics provide something that we as humans are not very good at – objective, unbiased, reliable and valid measures of peoples' traits and characteristics," says David Hughes, lecturer in organisational psychology at Manchester Business School. No-one, it seems, is arguing with this."