Psychometrics evolution: how testing has won over HR
"… the value pyschometrics give seems no longer to be in any question. "Psychometrics provide something that we as humans are not very good at – objective, unbiased, reliable and valid measures of peoples' traits and characteristics," says David Hughes, lecturer in organisational psychology at Manchester Business School. No-one, it seems, is arguing with this."
Specimen Report
We have various methods of reporting – please email us for examples.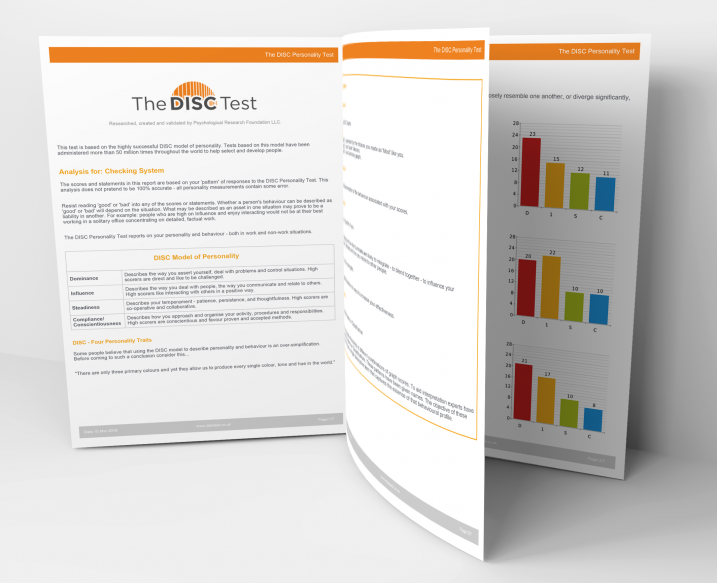 We are aware that organisations have different requirements so we offer a service whereby reports can be customised and/or co-branded.
Have a question?
Please email us if you'd like to see a free specimen report.
Get in Touch
Personality Predicts Job Success
Research indicates that personality traits predict success in areas such as employment:
nearly 50% of newly hired employees will fail within 18 months.
only 19% will achieve success.
In 89% of cases, this was due to the habitual behaviour – the personality – of the recruit. Only 11% of recruits fail due to a lack of ability or technical skill.
£24.25 / US $31.50 per test
No Hidden Fees such as additional training or certification fees.
The DISC Personality Test measures personality and behaviour using techniques that cannot be incorporated into a face-to-face interview.
Already Trained?
If you have received training to use the DISC Model of Personality you will find our DISC system very valuable and accurate.
Please contact us for more information regarding our system and fees.